Timeline of Northwest Pole Buildings and the family ties:
1969: Elmer "Bud" Roth (pictured at right) starts the business known as Northwest Pole Buildings. Dan Roth begins working for his Uncle Bud in the summers at age 14.
1977: Dan Roth graduates from college and gets married. Unable to find work using his Biology Degree, he goes to
work as a foreman for Northwest Pole Buildings.
1979: Bud Roth retires from Northwest Pole Buildings.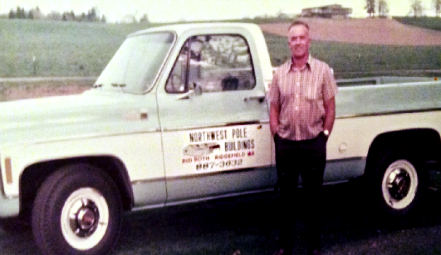 1983: Just months after the birth of Ryan, Dan and his brother Doug decide to restart the
business, despite tough economic times.
1994: Oldest son, Steve begins to work for the business in the summertime at age 14.
1997: Dan and Doug mutually agree to run their own businesses. Doug begins our "brother" company, Premium Pole Buildings. Ryan also begins working during the summers and sadly our founder Bud Roth passes away.
2003: Ryan finishes his two year schooling and goes into the family business full time.
2007: Ryan gets married, moves to Bellingham for seven months and works for a separate pole building company.  As it
turns out, older son Steve returns to work for NW Pole for three months before taking a job using his PhD in
chemistry.
2009: Seeing the need in a world full of technology and after 40 years in business, nwpole.com is created. Ryan both created and to this day maintains our site.
2012: Due to upcoming birth of his first child, Ryan looks for ways to expand business and sells the first few DIY "kit" in our history.
2016: Ryan starts his own crew, expanding the business to a two-crew firm in order to provide more clients with a Roth built pole building.
2021: Ryan finishes the first draft of our how-to manual as an aid to our DIY kits customers.
Today: We continue to strive to put out the utmost quality buildings by ensuring that Dan or Ryan are heavily involved in each building that we construct.