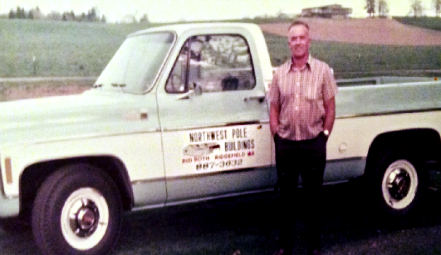 Bud Roth in the early years of NW Pole Buildings, Inc 1969.
Our pole building kits speak for themselves both in quality and affordability. We are here to help with any questions you may have to make the right decision on which pole building is right for you!
At Northwest Pole Buildings, Inc. we are committed to giving our customers what they pay for in the form of a high-quality building. We do most of our buildings in Clark & Cowlitz counties in SW Washington, but in recent years have provided kit packages to customers across Washington state. Most of our business is from referrals via word of mouth. The quality and integrity have been passed down through the Roth family of pole barn builders for generations. Our family has been the Northwest's premier experts in pole buildings for over 50 years.
We believe our quality speaks for itself. Our family has a combined pole barn experience of over 76 years between Dan and Ryan. Both of them started at age 14.
We are confident that if given the opportunity, we will earn your trust and you will be the future source of the aforementioned word of mouth referrals to our potential customers for years to come.
What Do Our Customers Say?
These guys build the BEST pole barns, absolutely, none better. They built me a 36 x 36 foot barn with a 12 x 36 foot attached shed, square and true, completely dry, dry, dry. WONDERFUL service, WONDERFUL craftsmen. Take the time to talk to Dan and his son Ryan- they're both enthusiastic about informing you about the intricacies of your building (actually, they'll talk your ear off!!:)) Absolutely fair and reasonable pricing, no hidden costs. The people they work with and recommend for finish items such as concrete flooring gutters etc are also first rate. I will absolutely contract with this outstanding father and son team for ANY future ag building needs I have.
Sean & Diana Fell
Clark County, WA
Dan and Ryan Roth came highly recommended from previous NW Pole Clients. I didn't have blue prints drawn up; I just had an idea of how I wanted the barn to function. One important thing to me was to have the horse barn and shop all in one. Dan and Ryan built an amazingly high quality barn, that was affordable and offered all the functionality I required. To help with the building of the barn, Dan and Ryan referred me to great local sub-contractors. Knowing that I was working with a trustworthy business, who required no supervision, allowed me to spend my time elsewhere. When last minute changes came up, the costs for these changes was very reasonable compared to other builders.
Aimee Witherspoon
Clark County, WA
"Not One, But Two" - We've known Dan Roth and his family for over 25 years. When we needed a 36' x 36' pole barn built the first time, it was only natural to contact him, since we knew he was an extremely hard worker and exceptionally honest. We were 100% satisfied with the work, the timeline, and the cost. When we built a new home at a different location in late 2006, the first thing we did prior to having our home built was to have Dan build us another 36' x 36' pole barn. Dan worked hand-in-hand with our new contractor to insure the pole barn complied with all permits, that it would compliment our new home, and that it was finished before the home's foundation was dug. And once again, we were 100% satisfied with the work, the timeline, and the cost.
Frank & Carolyn Karben
Clark County, WA
The quality and professionalism I cannot speak highly enough. All areas from the bid to the final product were discussed and understood. The barn itself is so well built; the man who came to measure for stall fronts commented that he had never seen a pole barn so well built that there was no more than 1/2 inch variance in the distance from pole to pole. The amount of material left over (excess wood and metal) would not have filled a pickup. There are several good builders in the area, but NW Pole Buildings is a cut above.
John & Candy McCaige
Clark County, WA
We are so happy with the barn Ryan and NW Pole Buildings built for us! All along the way, Ryan coached us through decisions that would help us create the building of our dreams. The crew was professional, and their advice throughout the project was priceless. I was initially overwhelmed by the idea of a project like this, but with their help we got it done! Ryan was always concerned about the details and finishing touches, making sure our animals would have a safe home to move into. I would absolutely recommend working with them.
Cameron & Kate Fifield
Clark County, WA
I found Dan very easy to work with and trustworthy. If he said he was going to do something, that is what got done. I only wished that I needed more pole barns built. Dan would draw the card for the work. When I have the money, I will probably tear down my current horse barn and have him build another small barn on that site. I give him 5 stars for performance.
Frank Nichols
Clark County, WA
The barn looks great! Exactly as we envisioned it. Dan and Ryan were great to work with, very professional and knowledgeable. We are already dreaming up the next project for NW Pole Buildings to help us with.
Rich & Kristin Forcier
Clark County, WA